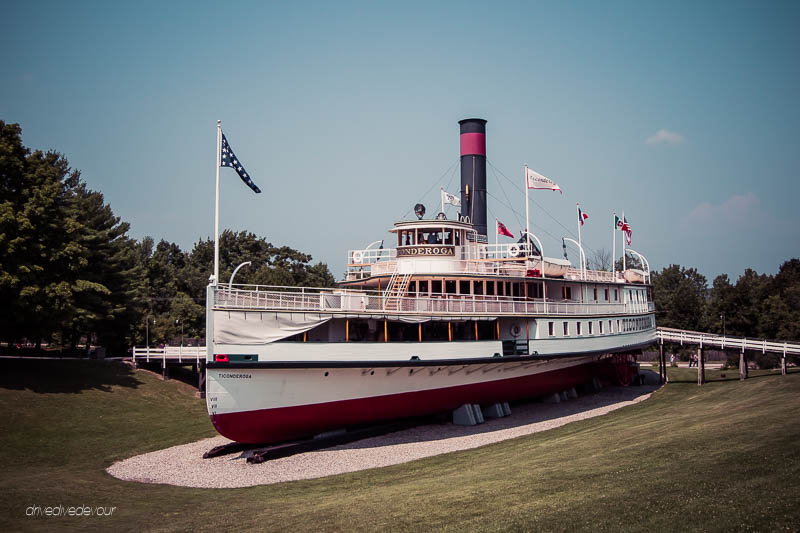 Brandon and I passed the Shelburne Museum on our way to Burlington and thought it might be an interesting little museum to visit. Boy were we wrong! It was a very interesting BIG museum to visit. We arrived mid afternoon and had to return the next day to see everything in the 38 buildings (25 are historic). Thankfully, the staff anticipates this and your ticket is good for two days. The rambling 45 acres on Lake Champlain houses everything from fine and folk art to an old hunting cabin to a local decommissioned steamboat. It's so vast in size that it's hard to know where to start in person and in this post.
A Little History
I say we start with a little history of the museum. Electra Havermeyer Webb founded the museum in 1947 when one of her other homes was closed. She was an avid collector of decorative art and needed a new home for her collection. Thus, the idea for the Shelburne Museum was born. Instead of housing it in one gallery, she chose to showcase local New England and New York 18th and 19th century architecture and relocate 20 buildings to the property to display her collections. The buildings include houses, a general store, a jail, a covered bridge, a schoolhouse, barns, and more.  The museum has the feel of a small village and you can wander through the historic buildings and beautiful gardens at your leisure.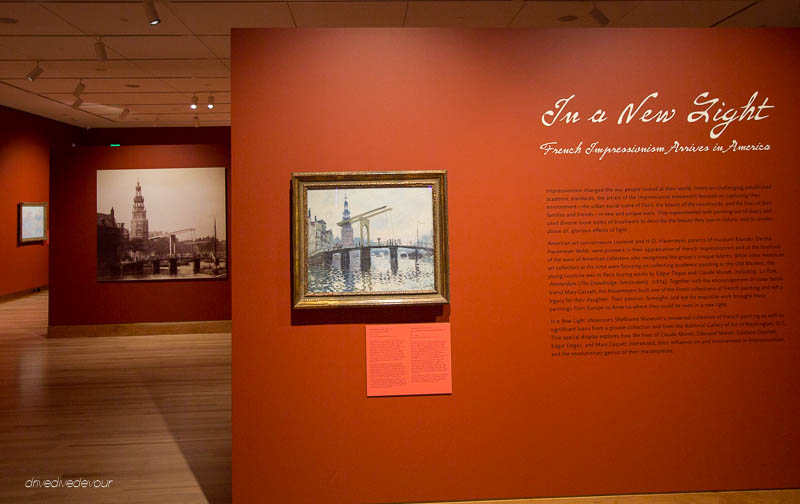 Fine Art
Although Mrs. Webb was a fan of the decorative arts, her parents were fine art collectors and amassed a large collection of impressionism and other fine art. She took over this collection and part of it is on display in five rooms that were brought to the museum from her New York City Park Ave apartment. Lucky me, there was a special showing of the all the French Impressionist paintings in the gallery at the museum. Impressionism is one of my favorite movements and I was thrilled to get a chance to get close and personal with Manet, Monet, and Degas. What was even more interesting and personal was a painting by Mary Cassatt of a little Electra and her mother, the artist and family were good friends.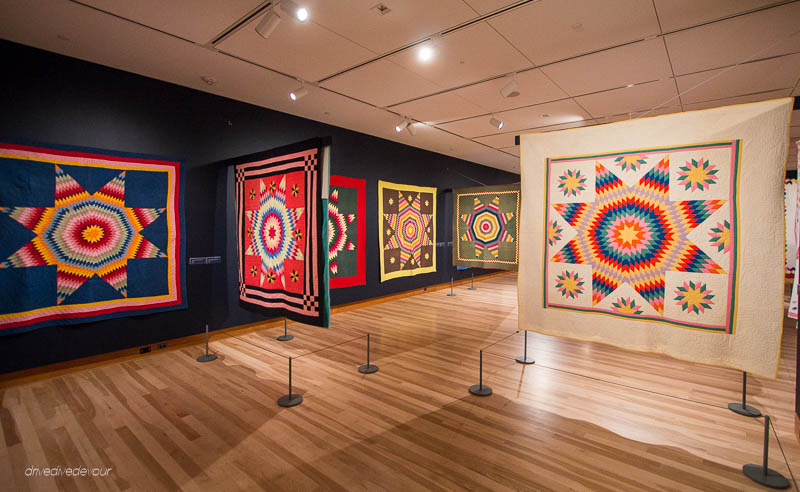 The gallery below the French Impressionism collection displayed a selection of star quilts from all over America.
Sleighs
Next, we visited the Round Barn that was currently housing a large collection of horse-drawn sleighs. The details and workmanship of the sleighs were beautiful! I can imagine during the Vermont winters these sleighs would see a lot of use. There was also a traverse with a long red velvet seat that would carry 8-12 people. In the winter of 1877-1878, traverse coasting was a competitive event in the Vermont Winter Carnival.
The Circus Building
Near the Round Barn is the u-shaped Circus Building with a collection of, you guessed it, circus memorabilia along with carousel animals. On the inside wall, the finely carved carousel animals line up beckoning you to take a ride. Competing for attention on the outside wall is a miniature circus parade that extends 525 feet. If it was full-scale it would be two miles long. Roy Arnold and five assistants spent 25 years meticulously carving all the people, animals, and wagons. The attention to detail even extended to fully-functioning brake systems on the wagons. Outside, in the center of the u-shape, you can take a ride on a functioning carousel.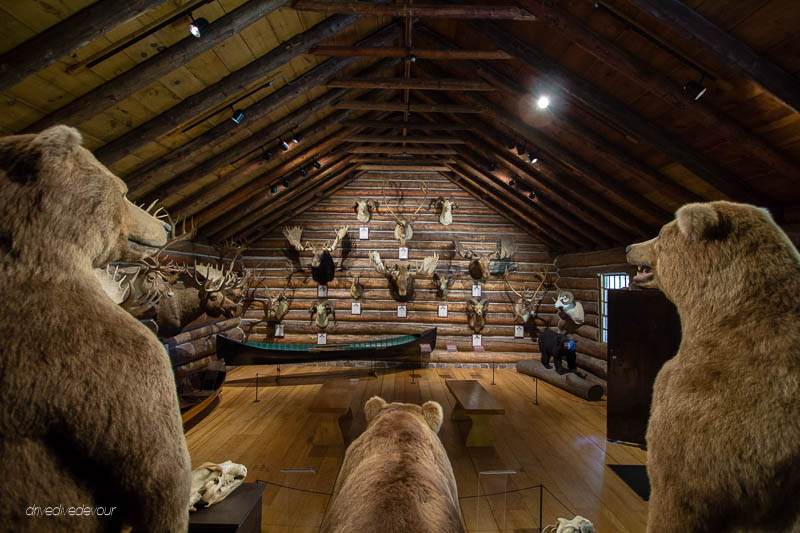 Dead Animals
We stopped in at a log-built lodge that represented Adirondack life and hunting where the bears seemed to preside over their trophies. The other rooms were sparsely appointed and the gallery next door displayed all kinds of firearms used in Adirondack life.
Railroad
The museum also contains a railroad station, a 10-wheel locomotive, a beautiful rail car from 1890, and assorted other railroad relics. It's amazing how they have everything set-up just as it would have been when in use: the books laid out like someone is about to come back from lunch and write in them, the sleeping cars on the train waiting for you to climb in bed. There is a lot of attention paid to the exhibits here.
Ticonderoga
One of the jewels of the Shelburne Museum is the Ticonderoga, a 1906 Lake Champlain steamboat. You can explore all 220 feet of this steamer from the engine room all the way up to the wheelhouse. The Ti operated as a day boat on Lake Champlain until 1953 when automobiles finally took over as the preferred method of getting to and from the port cities of Vermont and New York. The ship was brought to the Shelburne Museum in 1955 during the frigid winter with temperatures that went to 20 below 0. The ground had to be frozen to support the tracks being laid for the Ti and the ship itself on the two-mile journey. It was an amazing engineering feat and still stands as a great example of maritime preservation. There is a short film about this effort that I'd recommend watching to fully understand how such a huge ship makes into the middle of a field.
General Store
The General Store on site looks as if it just came out of the mid 1840s with all the goods one could ever want. Personally, I thought the cash register was one of the most stunning pieces on display. You can hardly recognize the thread tying together this elegant piece from the past and the ipad registers of today. A doctor is also housed in this building and we made sure to pick up some cod liver oil and leeches on our way out.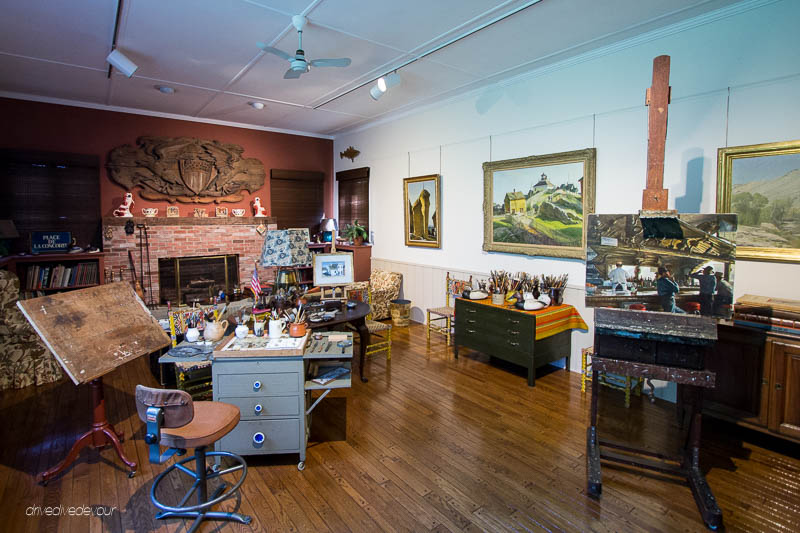 This same attention to authentic detail was on display in the Pleissner Gallery. In addition to exhibiting the works of Ogden Minton Pleissner, they also recreated his Manchester, Vermont studio with his own brushes, canvases, and memorabilia.
Folk Art
We strolled through the Stagecoach Inn which contains folk art sculpture, trade signs, whirligigs, and more. Is it any surprise the watch designers had to take a photo of the giant pocket watch?
Miniatures
I have a special fondness for miniatures and there were many to view here. I love the detail that goes into these displays. Usually, I lean toward mini kitchens with tiny pies and rolls, but my favorite here was a view into an artist's studio. I felt like I was a giant spying on this little man.
At one point, I had to throw Brandon in jail. He finally made amends and we continued on our tour viewing more horse-drawn carriages, a working printing press, creepy dolls, and a room full of hatboxes.
This feels like a very long and overwhelming post, but it's still only a tiny bit of what we saw. There were more buildings full of quilts, fiber arts, glass, scrimshaw, antique toys, ceramics, etc. If you have an interest in some aspect of American New Englander life, it is probably here. I would whole-heartedly recommend a stop, but make sure to pace yourself. And if you need a break, look for the lighthouse below. It is your beacon to a relaxation lounge to recharge.