"What's a skunk ape?" Brandon receives this question and a lot of weird looks whenever he wears his shirt depicting this creature. So what is a skunk ape? Well, we think of it like the Bigfoot of the Everglades. It's a large, hairy creature that walks on two legs and smells like a skunk. And how do we know this? We know because we spent the night at the Skunk Ape Research Headquarters in Florida!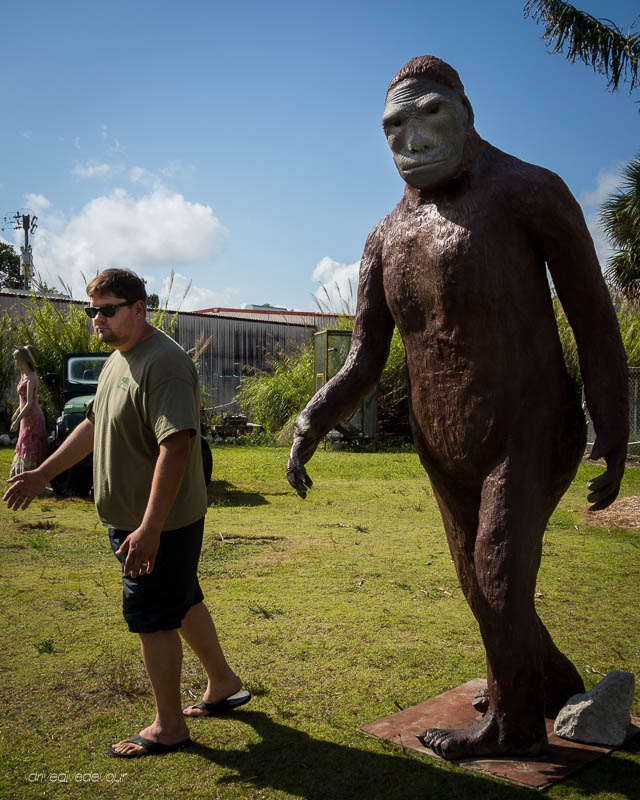 We needed a place to spend the night between Clearwater and Key Largo and we couldn't resist this roadside attraction. I probably shouldn't even call it that as this research center means serious business. Dave Shealy, one of the owners of the campground and lead researcher, has spent most of his life traversing the Everglades in pursuit of the mysterious creature. He claims to have seen the stinky biped three times in his life and has the photos and videos to back it up. All this exploration has culminated in the headquarters where you can buy a field guide for your own hunt or lots of skunk ape emblazoned tchotchkes.
A zoo, too!
The Research Headquarters also hosts a small zoo filled with local creatures like alligators, snakes, turtles, and more. We walked in to check out the Research HQ in the morning and were happy to find out our stay included a tour. The zookeeper Rick walked us through the exhibits and told us about each animal and how it came to be at the zoo. Many were nuisance animals or needed to be rehabilitated and couldn't be released back into the wild. People have also given up many pet birds to the zoo. Two parrots, in particular, were real ladies' men. One macaw blushes around any women. It's quite endearing to see the cheek feathers on this bird turn pink from your sight. Another cockatoo always chooses one female in each tour as his own. This lucky lady gets all his attention and since we were the only ones there that morning, that lady was me. He sat on my shoulder and tilted his head, but if Brandon would venture too close, all his feathers would go up in a show of dominance. I was his lady! Rick told us it didn't matter if there were five women in a group, he would choose one and then treat the rest as males.
For an overnight stop in the middle of nowhere, this place has a lot to appreciate. You can walk through the displays up front, check out the zoo, or you see what wildlife you can find in the campground. Personally, we were taken aback by the giant grasshoppers on giant leaves and the small alligator in the pond across from our RV. This little guy was trying to hide out from the big dudes on Alligator Alley and wasn't too concerning. I still wouldn't walk the dogs too close, though.
You should know
The Skunk Ape Research Headquarters and Trail Lakes Campground is located in Ochopee, FL
Everglades Adventures Tours also offers eco-tours out of this location
You can bait for skunk apes on private property with dry beans