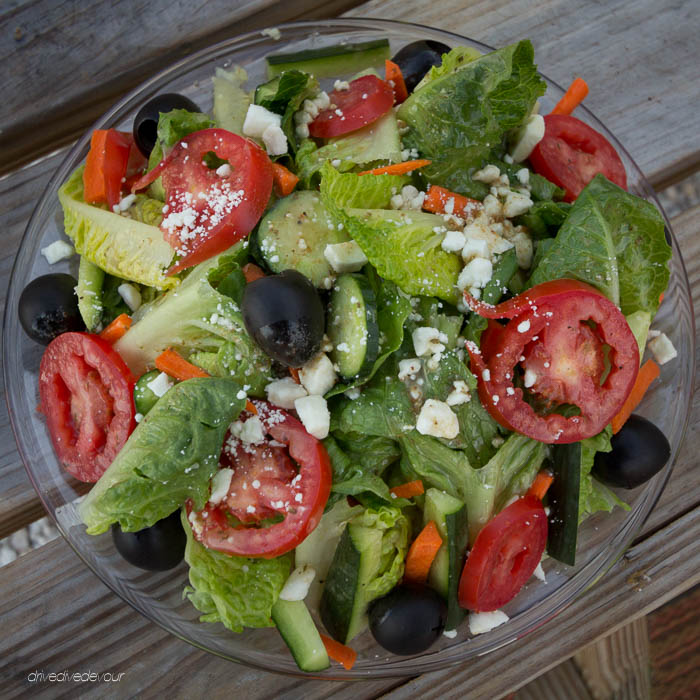 I have great food memories of visiting the Tampa, FL area as a child. One is of the smoked fish at Ted Peters and the other is Greek Salad at Pappas. This Greek style salad piled atop a heaping mound of potato salad became one of my favorite foods. I'd request it for birthdays and prepare it for friends. It's easy to make, but looks quite impressive.
The old Pappas restaurant is no longer there, but a new generation has a fast casual concept honoring Louis Pappas' original salad. But if you don't live in Tampa, you can make your own very easily and you get to make it your way.
There is no hard and fast recipe for this salad. The potato salad on the bottom is just a combination of boiled potatoes and Greek dressing. I found a bottle of local Greek dressing in the grocery store while staying in Clearwater (next to Tampa) and decided to try it. Unfortunately, I found it too sweet. If you want to make your own easy version, you can whip it up with lemon juice or red wine vinegar, some oregano, and olive oil.
Topping it proves endless in options. You won't find anchovies or shrimp on my salad, but they are popular choices. The olives in the photo are purely for the benefit of our dining companions and the recipe. Switch out the vegetables to your liking. The only thing I will say is to try to cut them so they stand tall and make an impression; this salad is all about presentation.
Jazz up your standard Greek salad and hear the oohs and ahhs in return. Want to make it a Florida themed night? Make this Key Lime Pie for dessert and you'll have your family or guests eating out of your hands. Then I suggest giving them a plate because it can get pretty messy.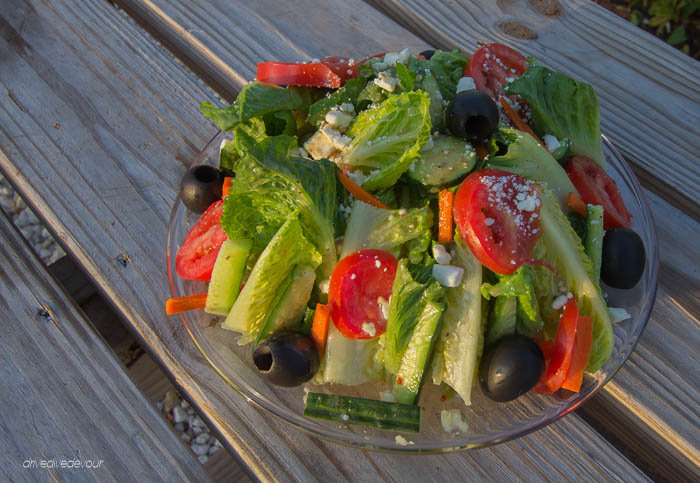 Pappas Style Greek Salad with Potatoes
A Florida twist on the standard Greek salad served on top of potato salad.
Author:
Kerensa Durr - Drive Dive Devour
Ingredients
Potato Salad
6 large potatoes or 10 smaller yukon gold
½ onion, chopped
½ c Greek dressing or to your taste
Salad
1-2 heads of Romaine lettuce, washed
2 tomatoes, Roma should be sliced and regular should be cut in wedges
1 cucumber, peeled and cut into fingers
1 carrot, peeled and cut into thin sticks
12 black olives, preferably Kalamata
8 oz crumbled feta
Greek dressing to taste
Instructions
Cut up and boil the potatoes with the onion until soft.
Drain potatoes and onion and then combine in a bowl with the Greek dressing. The potato mixture will end up like very chunky mashed potatoes. Pour in half the amount of dressing at first and taste as you go to find your happy medium.
Layer the outside leaves of lettuce on a platter and mound the potato salad in the center.
Arrange the romaine leaves on top of the potato salad vertically.
Start adding the vegetables on top of the lettuce taking presentation into account.
Crumble feta over the entire salad.
Drizzle with Greek dressing.
Serve with toasted garlic bread.
Notes
The ingredients for this salad can be adapted for any eater. Drop the olives and add towering green onions instead. Forget the carrots and add wedges of avocado. You get my drift.
If you're a seafood lover, try topping it with anchovies or shrimp.