Pappas Style Greek Salad with Potatoes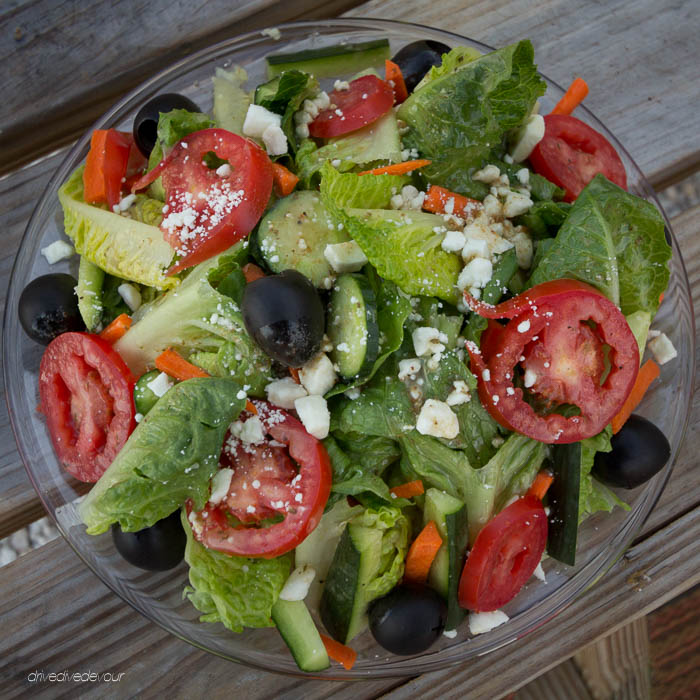 Author:
Kerensa Durr - Drive Dive Devour
6 large potatoes or 10 smaller yukon gold
½ onion, chopped
½ c Greek dressing or to your taste
1-2 heads of Romaine lettuce, washed
2 tomatoes, Roma should be sliced and regular should be cut in wedges
1 cucumber, peeled and cut into fingers
1 carrot, peeled and cut into thin sticks
12 black olives, preferably Kalamata
8 oz crumbled feta
Greek dressing to taste
Cut up and boil the potatoes with the onion until soft.
Drain potatoes and onion and then combine in a bowl with the Greek dressing. The potato mixture will end up like very chunky mashed potatoes. Pour in half the amount of dressing at first and taste as you go to find your happy medium.
Layer the outside leaves of lettuce on a platter and mound the potato salad in the center.
Arrange the romaine leaves on top of the potato salad vertically.
Start adding the vegetables on top of the lettuce taking presentation into account.
Crumble feta over the entire salad.
Drizzle with Greek dressing.
Serve with toasted garlic bread.
The ingredients for this salad can be adapted for any eater. Drop the olives and add towering green onions instead. Forget the carrots and add wedges of avocado. You get my drift.
If you're a seafood lover, try topping it with anchovies or shrimp.
Recipe by at https://www.drivedivedevour.com/pappas-style-greek-salad-with-potatoes/