Maple syrup and Vermont go together like peas and carrots…which I actually hate, so maybe that's not the best comparison. How about peanut butter and jelly? Either way, I dare you to not think of maple syrup when Vermont is mentioned, I know I do. Before we took off on our full-time adventure, we used to drive up in March to attend the Maple Festival in Southern Vermont touring all the sugar houses covered in snow. The houses would be warm and toasty inside boiling the sap down into the liquid gold that is maple syrup. The owners had little paper cups ready for you to put under the spout to fill with the freshest and warmest maple syrup you've ever had. We'd down these sugary shots, pick up a bottle or two, and move to the next house until our stomachs rebelled and made us eat proper food.
Maple Hill Farm in March above and boiling sap into syrup below.
When we visited Burlington in the RV, it was the edge of summer/almost fall, but maple was no less prevalent. I cannot tell you how many maple creemees I ate while I was there. Maple products, the bulk of which is mainly maple syrup, are found on shelves all across the state. Outside of maple producing areas, you can find maple syrup, but not maple candies, sugars, or spreads. The good thing is you can still do a lot with maple syrup other than drizzling it over pancakes, though let's not discount that use. It's great in oatmeal and on baked apples. You can also use it as a substitute for sugar while baking, just remember to use 3/4 cup syrup for every 1 cup of sugar and reduce your total liquid by 3 tablespoons. Or you can follow a recipe that is already tooled for maple syrup like these Maple Pumpkin Spice Muffins. They're everything you love about fall in a muffin. Even though sugar houses produce maple syrup in early spring, the taste is reminiscent of cold weather pancakes. And, of course, there is the pumpkin and the spices that go along with it. I think America has renamed fall "pumpkin spice season." So bake up a batch and eat them with your pumpkin spice latte, you won't be disappointed.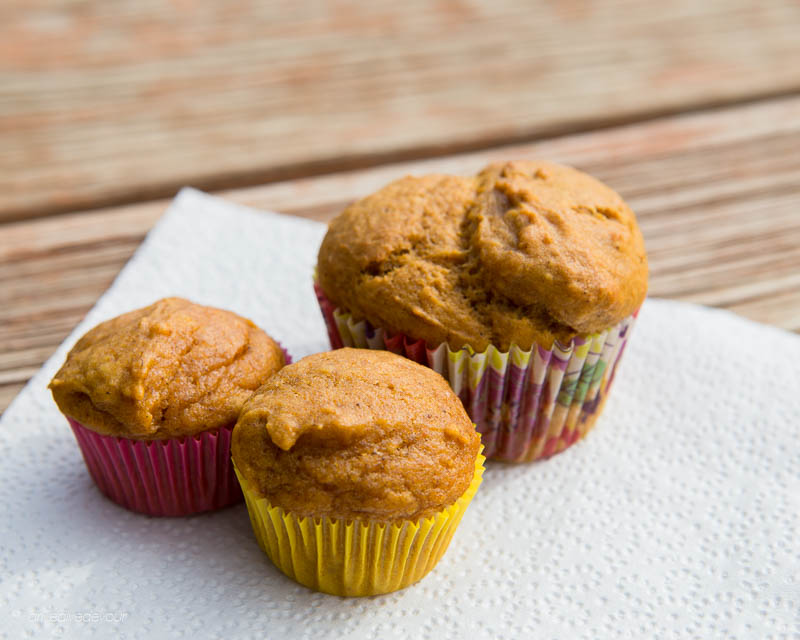 First a word about maple syrup grades. You often see "Fancy" in stores, but don't let this term fool you. This is often the first syrup made and is lighter in taste and color. It's still delicious, but if you want a more pronounced maple flavor, go with a Grade A Medium or Dark Amber. These are the grades you'll find as pancake syrup on tables across Vermont.
These muffins are a cinch to make and use a one-bowl method rather than separating out dry and wet ingredients. This is a lovely thing in a small, dishwasher-less kitchen. As with most baking, you'll start by pre-heating your oven to 350 degrees and either greasing or lining your muffin pans. Most often, I just grease the pans for muffins, but these paper liners made for much cuter muffin photos!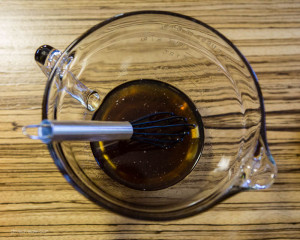 Start by stirring together the maple syrup, salt, and canola oil.
I didn't try this concoction, but I wonder if the salty sweet would be good like salted caramel which is delicious.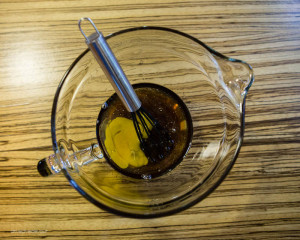 Next, whisk in the egg until thoroughly blended. This is the one item keeping these muffins from being vegan.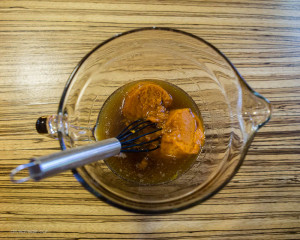 The all important pumpkin must be added. Adding pumpkin to your baked goods is a great way to keep them moist.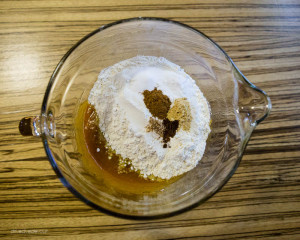 Add the dry ingredients and that fall taste with the pumpkin spice mixture including fresh nutmeg. You don't have fresh nutmeg? Well, if we meet in person, I have extra, so just ask.
Stir the dry ingredients together on top before folding them in with a spatula until just combined.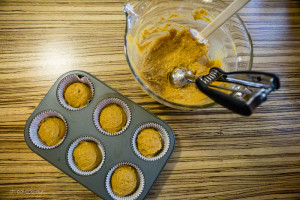 Fill the muffins cups 3/4 full and bake. The recipe makes a dozen regular muffins, 24 mini muffins, or a combo of 6 regular and 12 mini.
See that scoop in the photo? I love these dishers/ice cream scoops. The one pictured fills regular muffin pans pretty well and makes large cookies. A smaller one fills the mini tin and makes standard size cookies. They're a baker's dream and I wouldn't leave them behind when we moved into the RV.
Let them cool (well, try to let them cool) and enjoy! Tell me how they turn out or your favorite way to use maple syrup in the comments below.

Maple Pumpkin Spice Muffins- An Ode to Fall in Vermont
Maple syrup, pumpkin, and pumpkin spice- what more could you want out of a muffin?
Author:
Kerensa Durr - Drive Dive Devour
Serves:
12 regular or 24 mini muffins
Ingredients
¾ c maple syrup
½ tsp salt
¼ c canola oil
1 egg
1 c pumpkin puree
1½ c all-purpose flour, alternatively you can use 1 c ap and ½ c whole wheat
1 tsp baking powder
½ tsp baking soda
½ tsp cinnamon
¼ tsp cloves
½ tsp ginger
½ tsp nutmeg
Instructions
Preheat oven to 350 degrees. Line or grease muffin pan.
Stir syrup, salt, and oil together.
Whisk in egg until thoroughly blended.
Add pumpkin and stir to combine.
Add flour, baking soda, baking powder, and all spices to bowl. Stir the dry ingredients together and then blend into the pumpkin-syrup mixture until just combined.
Fill the muffin cups ¾ full and bake until firm and a toothpick comes out clean. About 12-15 minutes for mini muffins and 24-26 minutes for regular muffins.
Let cool in pan for 5 minutes and then remove muffins on to a wire rack.