RV Mattress Trial and Tribulations
If you're like us, the mattress that came in your RV was less than desirable. The one in our first motorhome was a foam brick that didn't sleep well at all. Our current RV had something that passed as a mattress, but was barely thicker than a slice of bread. There was no way we could sleep on either of these long-term.
The former owners of our current coach had a thin egg crate foam topper on the mattress, but we wanted to try something a little thicker and fresher. We went with a 2-inch foam topper that made sleeping a lot more comfortable. It was soft and conforming, but it did get a little warm. Not only that, but the topper would never stay in place. It slid to end of the bed, hanging off the edge a good couple of inches. Only the cover and sheets kept it in place. It was frustrating to make the bed with extra foam hanging over and it was too much of a pain to readjust every day. The annoyance was outweighing the comfort on this solution.
Next, we tried upgrading our thin mattress with topper combo to a residential mattress. This had worked alright in our last RV with some minor adjustments like removing the headboard. Unfortunately, it wasn't as easy of a change this time. After navigating this big mattress into our bedroom, we realized some ugly truths. The mattress was longer than the platform and it stuck out into the dressing area of the bedroom. This was worse than the foam because it didn't budge when pushed. And it was much heavier than the old mattress and topper combo. This didn't matter as much in the old RV because there was no storage under the bed, but now we keep shoes and more that we need to access daily. I was always afraid that I would be smashed by this goliath while trying to grab some flip-flops. Finally, it was quite a bit taller than the bread slice mattress causing Brandon to hit his head on the overhead cabinets. Not to mention Lucy couldn't jump that high to get up there herself.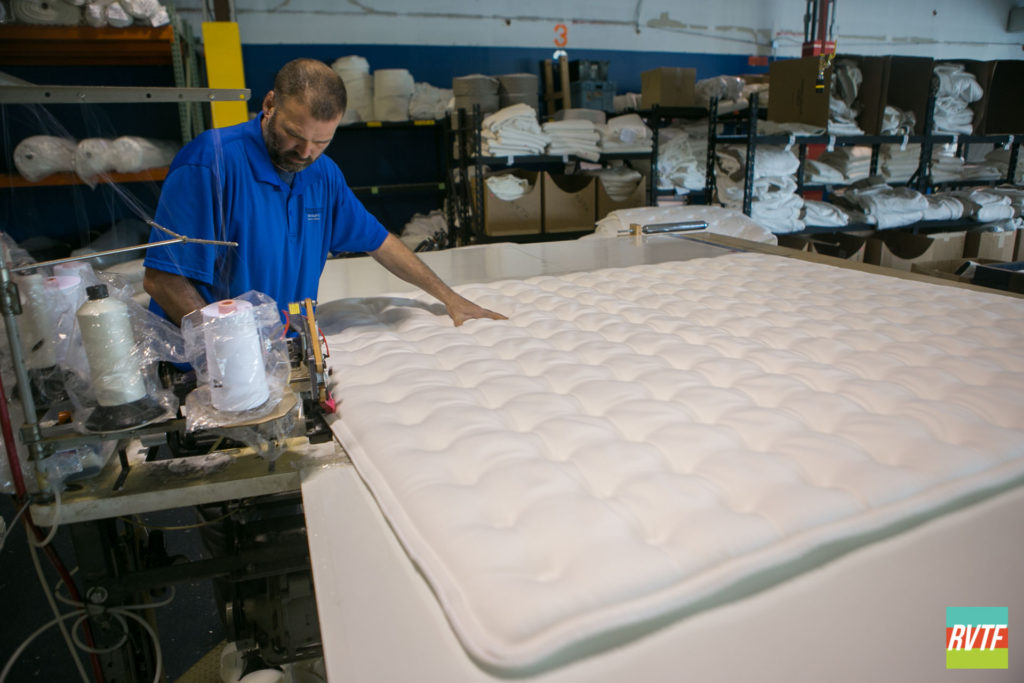 Our New RV Mattress Replacement
That was it, we needed a better solution. Thankfully, we remembered talking to the guys from Mattress Insider at the RVIA show about the custom mattresses they make. We decided to take them up on the offer for a call to figure out a better option for us. We went over our firmness preferences and custom needs. None of this fazed them. They suggested combining inner coils with a softer top layer for maximum comfort.
Coincidentally, Brandon already had a trip planned that would put him less than 10 minutes away from the mattress factory. So not only would we get a new custom-built mattress, we would get to see them make it! You can watch the whole thing being built in the video.
Our RV Mattress Review
While at the factory, Brandon got to test out the different types of mattresses they offer from memory foam to innerspring to cool gel foam and more. We stuck with the pocketed coil as discussed on the phone and topped it with latex for a plusher feel that would stay cool. They added their new organic cotton cover to finish everything off.
While Brandon brought our mattress home in the car, they can ship your RV mattress directly to you. It comes rolled up like a burrito making it very easy to get in the RV and set-up. This was so much easier than the residential one. After a few hours of expansion, it was ready to go.
Our new mattress fits in our bedroom perfectly. We've gained our space back for dressing and Brandon's got his head room back. It's light enough that I trust I won't be smashed while picking out shoes. We've been sleeping on the new mattress for a while now and it's been great! We've decided the coil and latex combo has a neutral feel; it's not too firm and not too soft. We've been on a Goldilocks expedition and have finally found one that's just right. It's made our lives so much better to have a mattress that is both comfortable and fits our space correctly. I wish we had skipped directly to this mattress rather than going through the topper and residential mattress!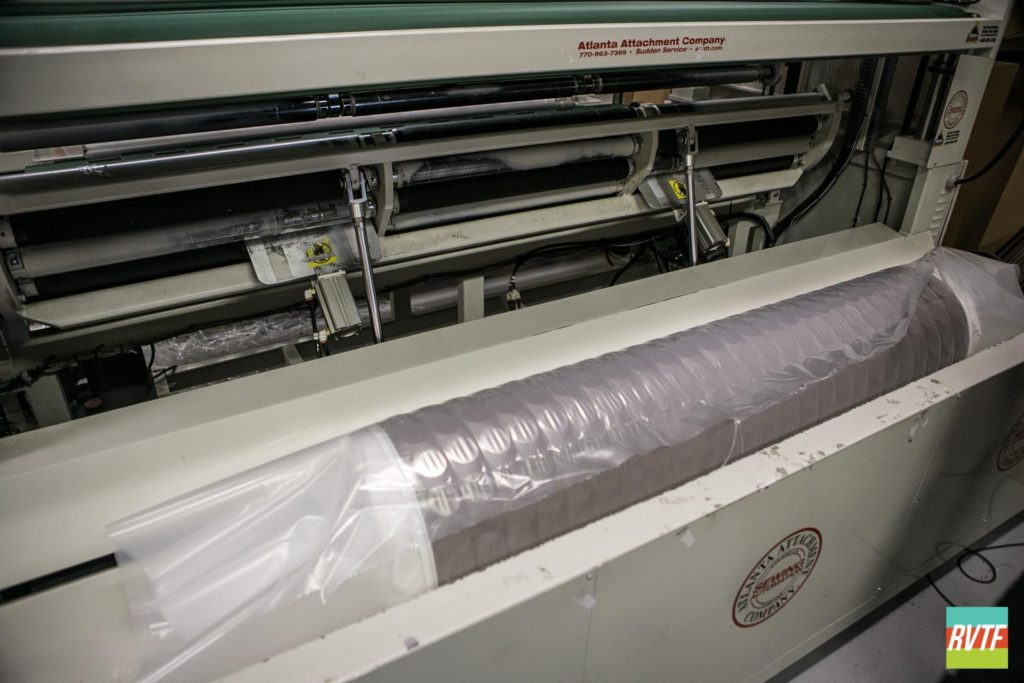 Your 10% Discount
We had such a great experience with Mattress Insider that we wanted to make sure you had the opportunity to replace your uncomfortable RV mattress with one customized for you. Mattress Insider is offering a 10% discount on your entire order to all our readers using the discount code RVTF (that stands for RV to Freedom, our site and FB group all about learning how to live in an RV). All you have to do is go on MattressInsider.com and find your RV mattress. Do you need a custom cut or want more guidance? Don't worry because the code works over the phone, too!
We've been so pleased with our mattress and we hope you can find a comfortable RV mattress replacement, too.
You Should Know
Get 10% Off your Entire Order
Go to MattressInsider.com
or call 1-888-488-1648
Use the discount code

RVTF