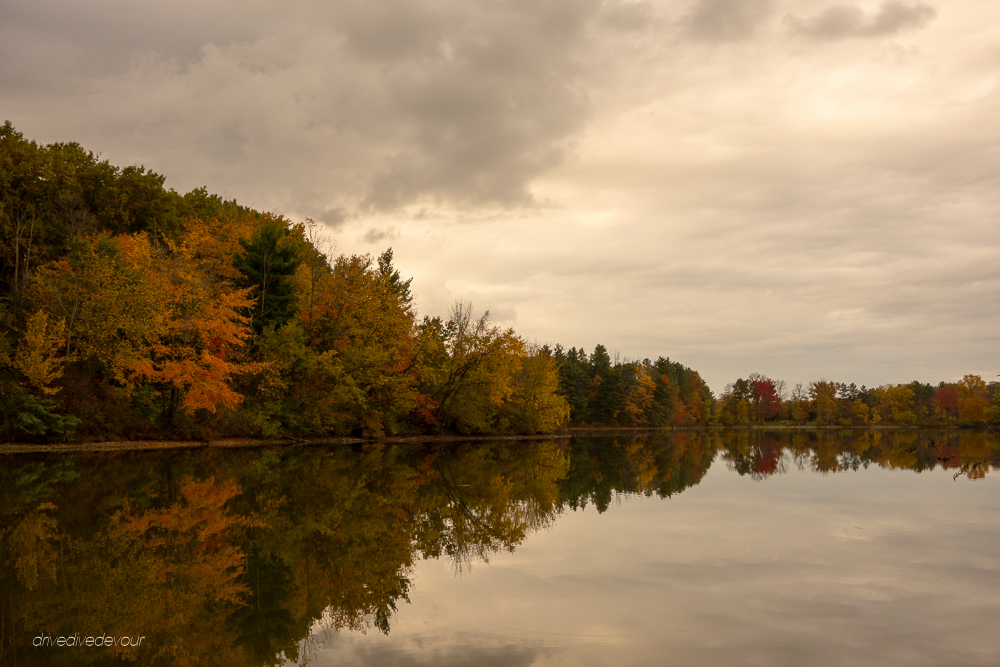 We had a few goals when we drove through Ohio on our way back to Indiana. First we would meet up with our RVing friends, the Snowmads. Then we'd head down to Mansfield to see an old college buddy. While there, we really wanted to visit the old Ohio State Reformatory that was used in the movie The Shawshank Redemption. I can't believe there's a soul out there who hasn't seen this movie and doesn't know the building I'm talking about. If you're one of the few who hasn't seen it, do yourself a favor and get busy watching or get busy dying. With these few goals in mind, I didn't do a lot of planning. I tend to be a mix of spontaneity and planning myself and that's how I look at trips. I usually like to do a bit of research about a place and make a map of places I would like to visit, but I don't make an itinerary. If we are in an area, I check the map to make sure there isn't somewhere else I wanted to see or might be fun nearby. The only thing I felt I needed to check was finding campgrounds that were open since it was mid-October. Other than that, I'd let go and try to embrace spontaneity even more.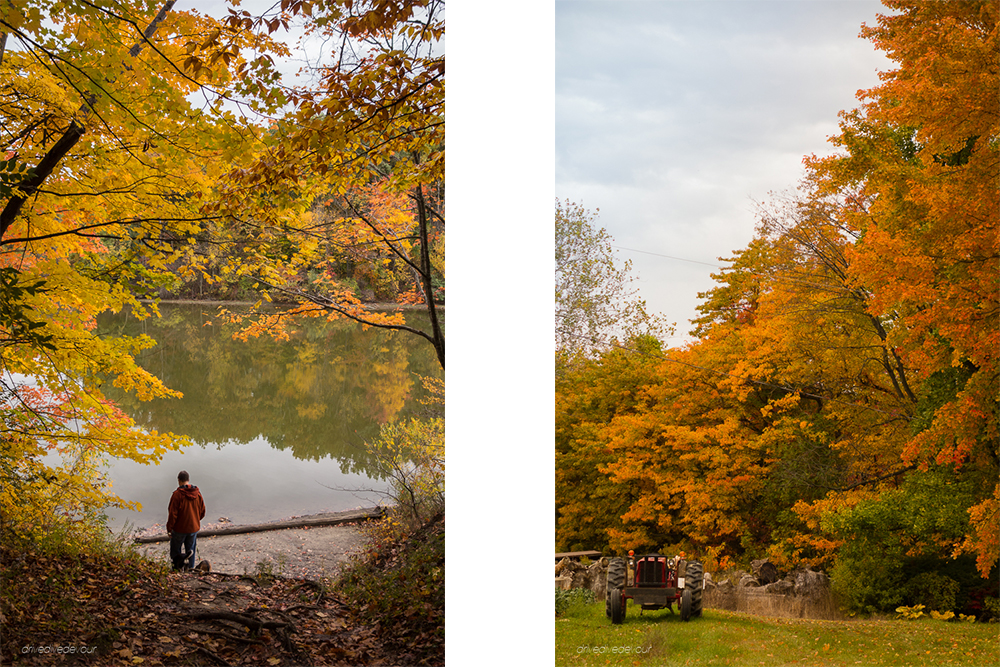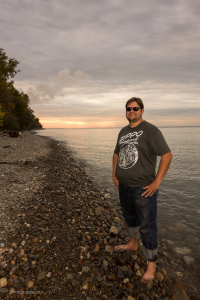 Ohio was alive with fall color and was truly breathtaking to behold. If you read my previous post, you'll know I am a bit obsessed with autumn. We stayed at a Harvest Host overnight very close to Lake Erie and Brandon got to dip his toes in his final Great Lake. We filled up with goodies from the farm market and made our way down the road to Findley State Park. We knew this state park didn't have full hook-ups, but it was convenient, beautiful, and we were only there a few days. They had even decorated for Halloween. We got to see our friends, even going into Cleveland one night for a great meal and to meet another couple.
The town of Wellington where the park is located is also cute and has a rather interesting history. It was the site of the Wellington-Oberlin slave rescue that many residents took part in to save runaway John Prince from being taken back South. They helped get him to Canada, but 37 people were charged with violating the Fugitive Slave Law. Their trial garnered national attention and became a rallying point for abolitionists. It was also home for 20 years to the artist who painted the "Spirit of '76." Finally, in the late 19th century, it was known as the "Cheese City" with over 40 factories producing cheese. At its height in 1878 , the Horr-Warner company produced 6,000,000 pounds of cheese and 1,000,000 pounds of butter. That's a lot of yummy cholesterol right there.
Around Mansfield, we found a campground at a nearby watershed conservancy that looked nice. It was open and listed a daily rate for full hook-ups. When we arrived, we could choose any available spot. Any available spot except those with full hook-ups. I don't know why you would list a daily rate if it's only available for seasonals. We weren't really prepared for this and had to go fill up with water near the dump station before finding a spot. We had been avoiding carrying a full tank of water because  we had some metal on the bottom that needed to be replaced  (we were on our way to get it done!) and we didn't know if it was under the water tank or not. We didn't want to find out by having our tank fall out on the road! We filled up with a cautious amount of water and found a nice spot for the week.
When it came time to take showers, I had visions of gym class. By no means were these restrooms dirty or the worst we have seen, but they were locker room style. The bench and hooks were in a communal room in view of the restroom with showers lining the walls. I'm still a modest, Midwestern girl at heart and this did not appeal to me at all. You also couldn't avoid getting wet when turning on the shower and you had to push the button several times before the water got hot since there were so few people using the showers this late in the season. And why can't they ever build a shelf into campground showers?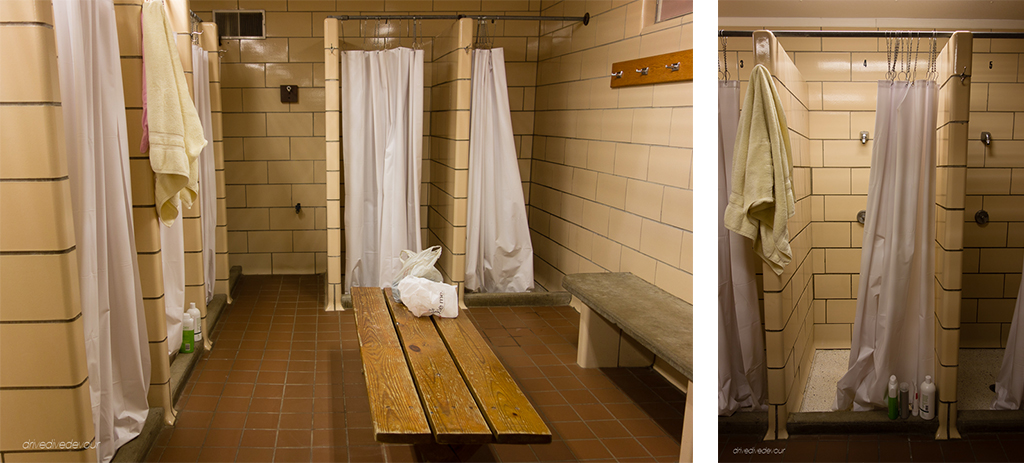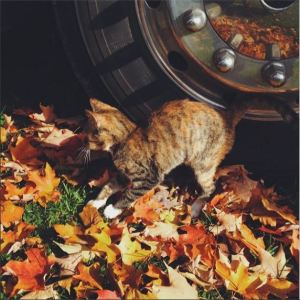 The rest of the campground was pretty, though, and it had some beautiful fall foliage. We found a restaurant/bakery nearby that had butterscotch pie and we met up with our friend from college. We also made a trek to get Cincinnati chili because we could and it's some of the best regional comfort food. We also had a kitten jump out of our generator while at the campground. She hung around our motorhome and is now part of our traveling family. Mansfield was treating us right.

We were having a good time until we wanted to visit the Ohio State Reformatory. For the month of October, they shut down regular tours and only have the nightly haunted tours. Waiting in line to have people try and scare us and not actually see a lot inside didn't appeal to either of us, so we skipped the nighttime scare fest and drove out during the day to see if we could do anything. Unfortunately, the photo below shows as close as we could get. A little pre-planning would have clued us into this fact. We had hoped another part would still be open , but it was not to be and we'll have to go back another time.
Overall, we enjoyed our time in Ohio even when we ran out of water and had to ask to borrow a hose from our friend. It was nice, pretty, and friendly. And the mistakes we had were caused by not checking things out a little more. I still don't want to pre-plan every little detail, but if there's something we want to see, I may do a little more research. Or call and specifically ask about the full hook-up spots. The road is a never ending learning experience.