Driving into Gulf Shores, you can tell it's one of those summer play-lands with go-karts, a small amusement park, arcades, and beautiful beaches. It would be a great family fun place with kids and sun. Of course, we weren't there in the summer; we stayed before the official start of spring during the end of February/beginning of March and we don't have kids. So what did we do? Well, a lot in fact. We had never been to Gulf Shores before and didn't know what to expect, but found some great surprises that will have us going back.
First, let me say just because it's not summer doesn't mean it's not busy in the RV parks. It's a snowbird haven and I called over half a dozen parks before finding a spot; most places were booked until April. So my suggestion is to book as early as possible if you want to visit in the winter. I can't speak for spring and summer, but I'd be prudent and call ahead then, too.
The night we got in, we went to local favorite Lulu's for dinner. They have a large, outdoor bar and seating area in sand that would be awesome in warmer weather, but it was quite chilly that night, so inside we went. Thinking even the enclosed patio may be too chilly, we apprehensively followed the hostess to our table by the edge of the water. We needn't be worried, though, as there was a large heater directly over us and the clear, plastic enclosure that let us view the outside without feeling it, kept us nice and toasty. Between our seating and the live trop rock music, it felt like we were in a more tropical location, so we ordered drinks to match. Brandon ordered the The Scuba Lu which was named in honor of the Lulu reef off the coast of Gulf Shores. This was as close as he'd come to it this trip as the ocean is too rough and unpredictable this time of year to have boat trips out to the reef. It's just another reason for us to go back.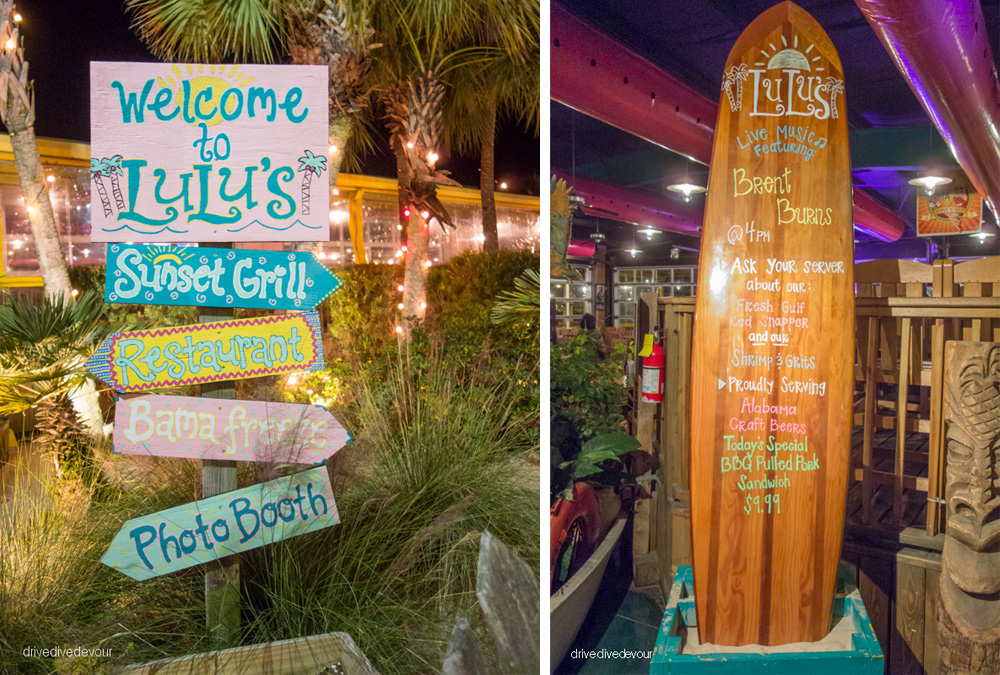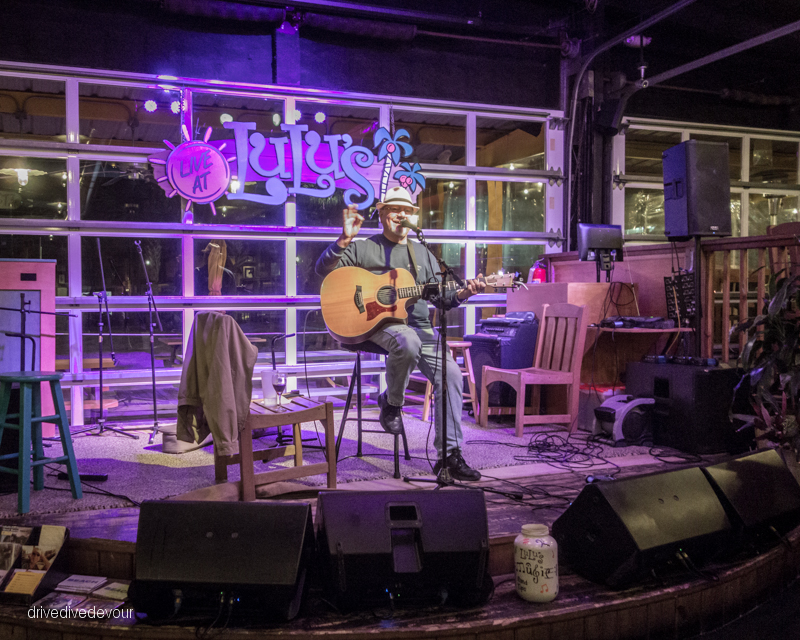 We filled up on guacamole and house-made hot sauces while sipping our drinks and listening to Brent Burns sing about tiki huts rocking. Lulu's is owned by Lucy Buffett, sister of Jimmy Buffett, and she seems to have a passion for the Gulf coast, hosting and entertaining, and the laid back lifestyle just as much as her brother. Brandon ordered the jerk chicken sandwich and I had the veggie burrito. Both were delicious, but I had to put back half my burrito to save room for dessert. Another side note worth mentioning is the allergy menu (gluten, dairy,etc). I know a few people who would appreciate this.
They have three desserts on the menu: key lime pie, hot fun Krispy Kreme bread pudding, and brownie in paradise (served with ice cream). Brandon is not a fan of key lime nor bread pudding, so he went with the brownie. After the manager joked with us that it's just a brownie and not as unique as the other two, we found it to be decadently delicious. I would have a hard time passing it up again.  All three sounded good to me, but I felt it my duty to try the bread pudding made with Krispy Kreme doughnuts. It took me awhile before I learned to like bread pudding and I still tend to only like the chewier, less pudding like kind. The yeast doughnuts made this pudding very light and soft. It was not my favorite texture, but I know plenty of people who favor this in a bread pudding, so if that's you, try it. The flavor was good and the addition of cinnamon hit the spot. Next time, though, I'm trying the key lime.
We did make it back to Lulu's during the day and split a salad and nachos. We couldn't decide whether to be good or bad, so went for both. We were both really happy with this combo. Their house salad (Fresh & Fancy Greens) was anything but basic and included things like sprouts and pumpkin seeds and the nachos had a warm layer of queso on the bottom. We finished every bit of both.
Our first couple days were a little cool and rainy, so we visited an arcade and played some skee-ball. I have loved this game since I was a kid and Brandon and I can get pretty competitive. We also decided a typically summer treat was just what we needed and headed to Matt's Homemade Alabama Ice Cream. I chose Matt's Lemon Ice Box because it reminded me of a sunny day. It tasted like a creamy lemon pie and was just what I needed. Brandon found his new favorite ice cream in a purely Gulf Shores flavor, Original Oyster House Peanut Butter Chocolate Chip Pie. This pie was listed as one of the top 100 things to eat in Alabama before you die and we think the ice cream may be one of the best ways to consume it. The kid behind the counter said two whole pies are blended into the ice cream. Are you surprised we went back here before we left? Evidently some people go every night they're in town; I can't say I blame them.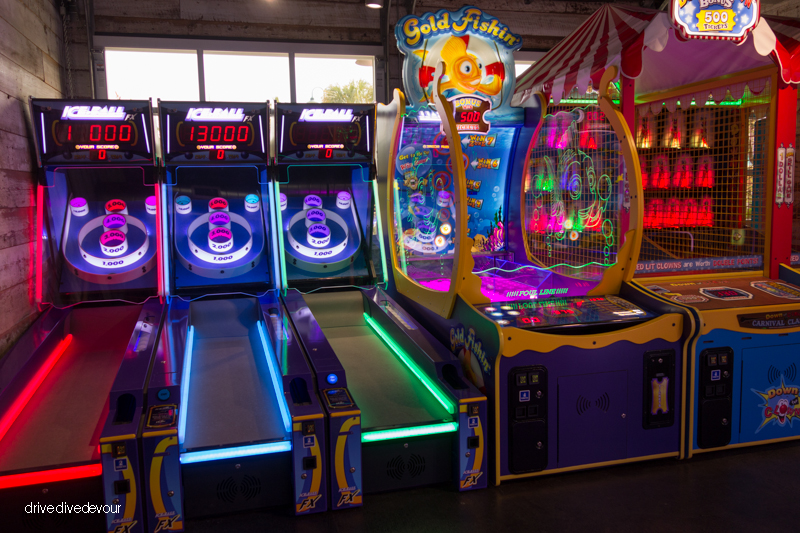 When the rain cleared up, the days became beautiful and we were able to enjoy more outdoor activities. We took the dogs and Gypsy cat out for a walk along the Backcountry Trails. The trails are paved and are perfect for biking or walking. You might even get to see an alligator in few marked viewing areas.  There are more than 11 miles of trails, but the little kitty can only handle around 5, so we cut the walk short and headed to happy hour at Tacky Jack's.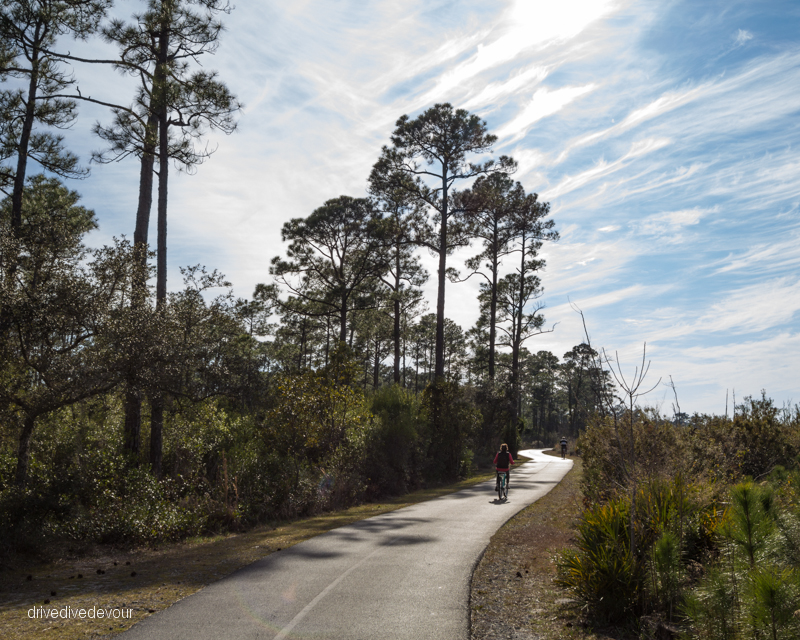 Tacky Jack's is another eatery that would be fantastic in warm weather. It's situated along the canal with tons of outdoor seating. We ordered some happy hour specials and perused all the names taped to every surface, a Tacky Jack's tradition.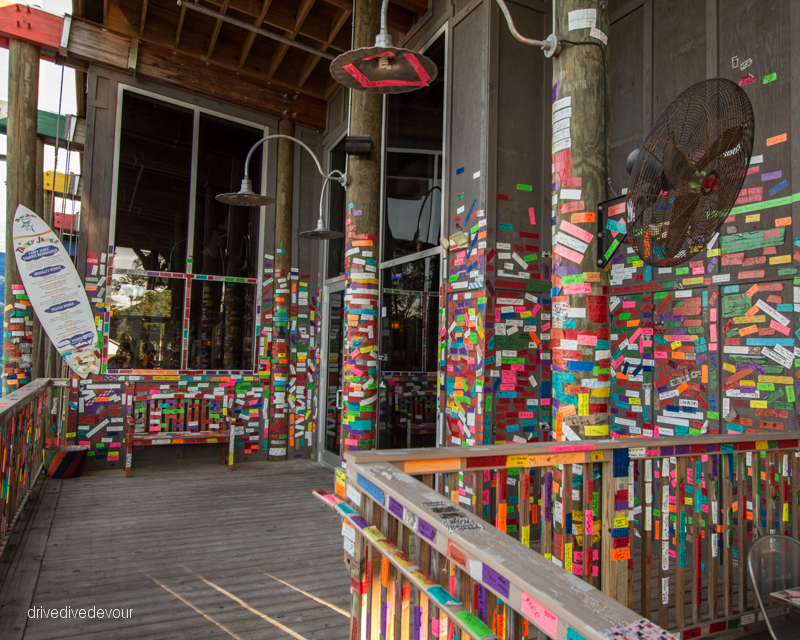 We visited the beaches multiple times on our visit. The first time, we saw a couple of bodyboarders hitting the waves in just swim trunks and a couple walking the beach bundled up in coats with hoods. It got decidedly warmer as the week progressed, but really it's all a matter of opinion and tolerance level. Although it was too cold for us to swim, Brandon enjoyed flying his kite along the beach and just watching the waves as we walked along the white sand was gratifying.
Fort Morgan is a short drive from Gulf Shores and offers a bit of history to your coastal trip. We visited at the end of a foggy day and had the whole place to ourselves. The fort was built after the War of 1812, but it's most famous moment came during the Civil War. During the The Battle of Mobile Bay, Confederate soldiers opened fire on the 18-ship Union fleet heading towards the fort. The leading Union monitor struck a mine (known as a torpedo) and sank within minutes. This setback caused confusion and hesitation in the fleet. It was at this point the commander Admiral D.G. Farragut gave the order, "Damn the torpedoes, full speed ahead." He then led the remaining fleet past the fort, through the minefield, and into Mobile Bay. The fort is under going a bit of restoration which is needed, but we do like the look of it now. Being on the coast the water seeps through the walls leaving white deposits that give it an interesting and eerie look.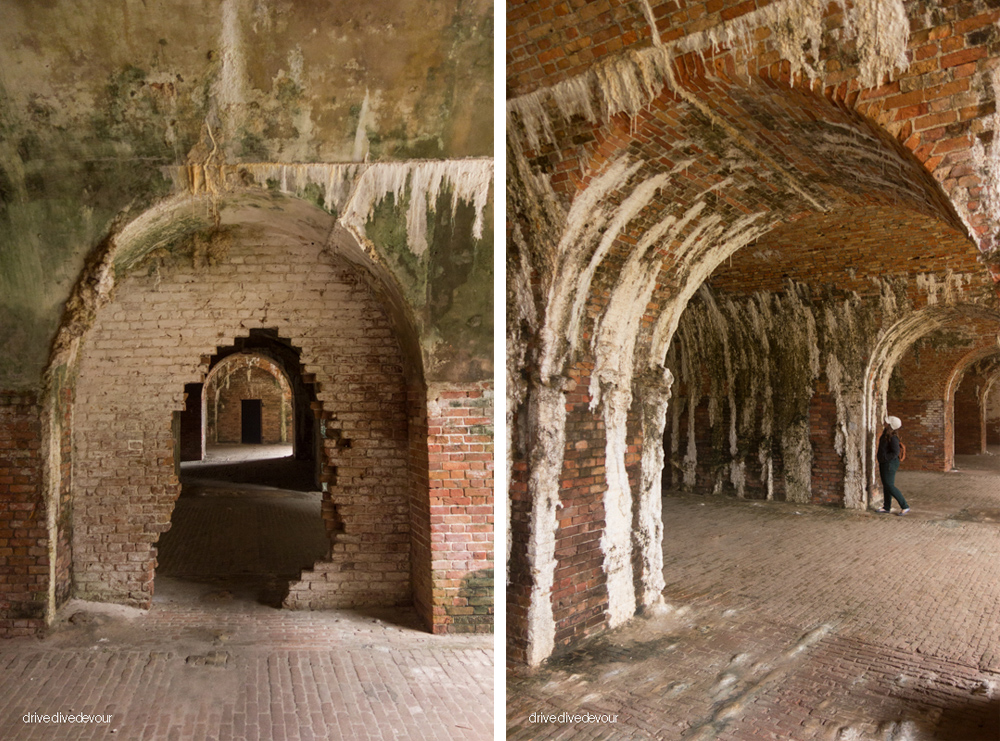 All this outdoor activity works up an appetite and we found The Cayman Grill in Orange Beach helps satisfy it. It's a funky building from the outside, but modern and charming inside. They have an 8,000 gallon stingray pool in the center of the restaurant, that's not something you see every day. They also have the prettiest pizza oven we've ever seen all tiled in blue glass tiles. Brandon made sure to utilize this oven by ordering the lunch special of a pizza and drink. Although the pizzas were a deal and sounded delish, I had to go with the griddled crispy zucchini sandwich. The pizza had a nice blistered crust and a nice buffalo zing with blue cheese drizzle. The sandwich surprised me in a good way with breaded zucchini and layer of over roasted tomatoes and cheese. Both were delicious and I'd like to go back for my own pizza.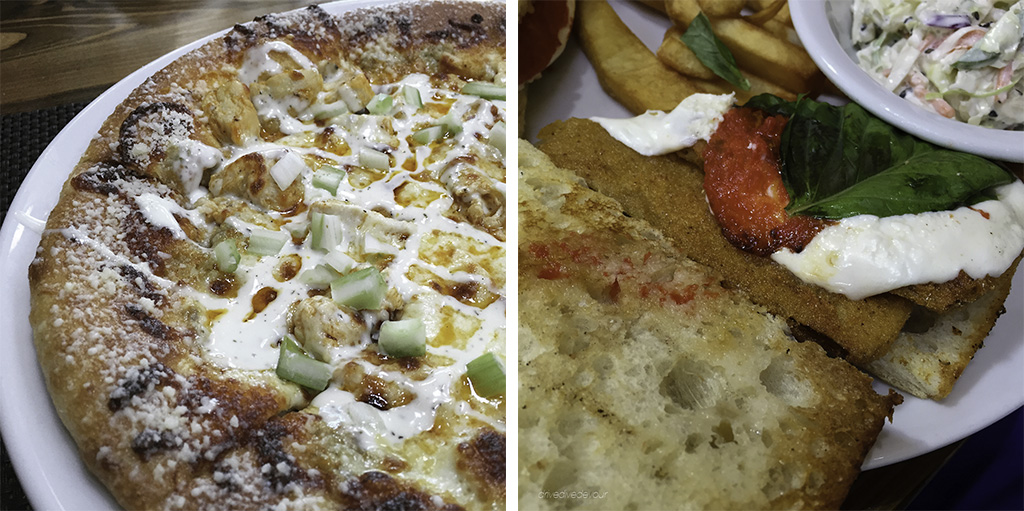 Sitting on Lake Shelby is Gulf Adventure Center at Gulf State Park which offers zip lining, kayaking, and paddle boarding. Although the zip lines looked really cool and fun going over the water, I couldn't bring myself to do it. Instead we took some photos of the more adventurous types on the lines and we chose a kayak. It was still a little foggy when took to the water, but it just added to the ambiance. We moved swiftly through the water and went towards another bank. We paddled around for a bit and then went towards the zip lines to get some shots from the water. Maybe next time I can muster up the courage to step off the platform…maybe.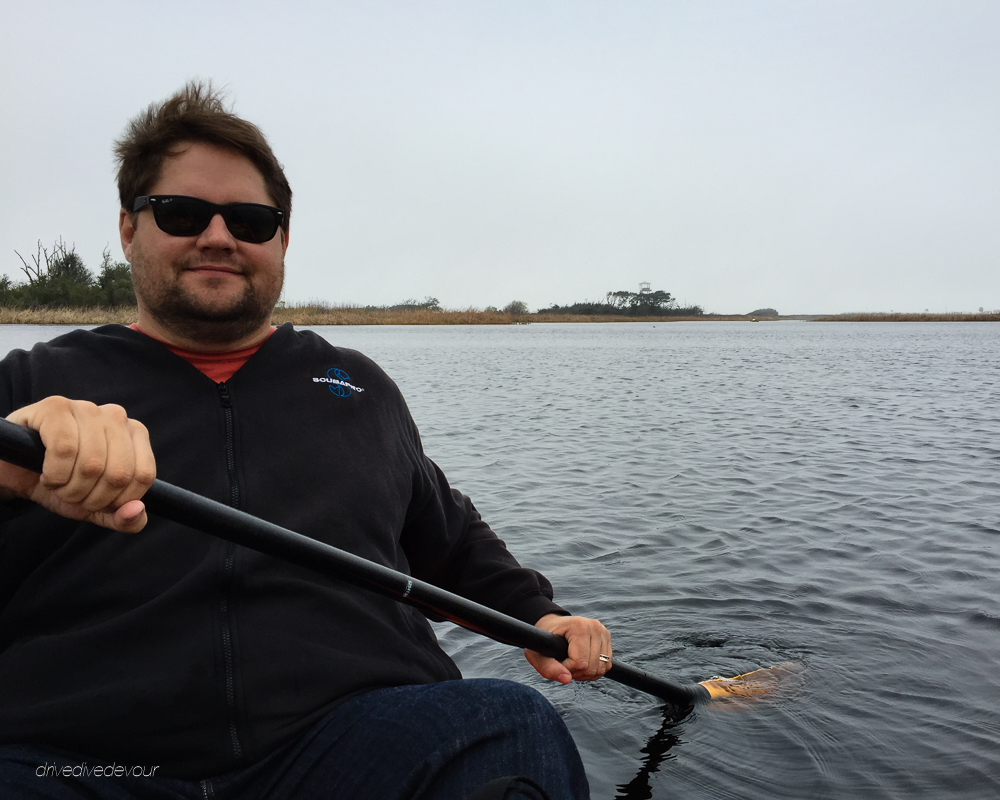 Later, we stopped by The Beach House Kitchen & Cocktails for a light bite and refreshing cocktail. They squeeze their own juices, make their own syrups, and prepare their own garnishes; this is a well-crafted cocktail that appeals to all my senses.
One of the coolest things we've gotten to do the road was at the Coastal Arts Center of Orange Beach. They have both a Hot Shop for blowing glass and a Clay Studio for building pottery. Unlike most glass shops we've ever visited, you can actually participate in a class here. It's also run by the city, so the prices are reasonable. First we watched the glass artist-in-residence Adam and assistant Kerry demonstrate how everything works and how to make a glass ball ornament, flower, or paperweight. Then we got to choose which of the three we wanted to make. I went with the flower while Brandon chose the ball ornament. There were a few people who were there to just watch the class and shop the galleries, but we had a lot of participants including a young girl. She was going next door to the clay studio after making her flower, too. What a great visit to Grandma and Grandpa's she had! We would definitely recommend taking advantage of this unique opportunity.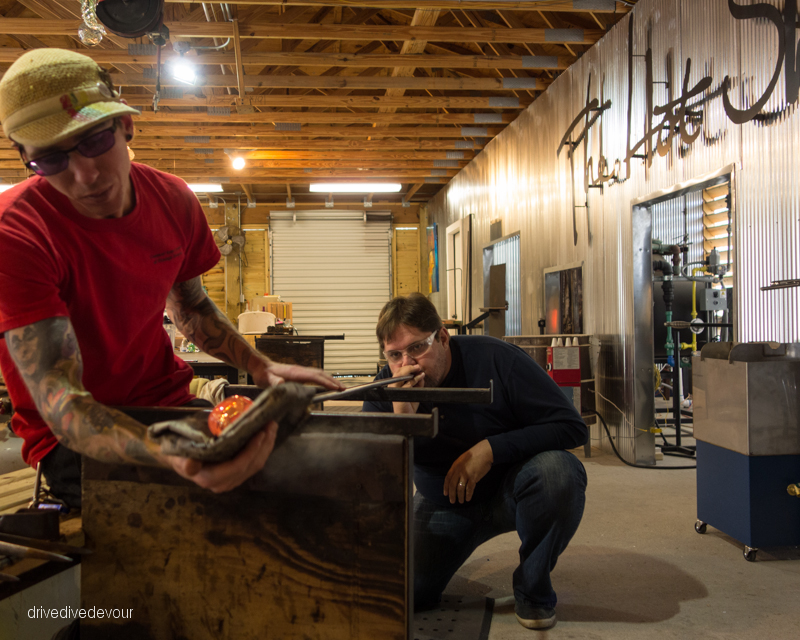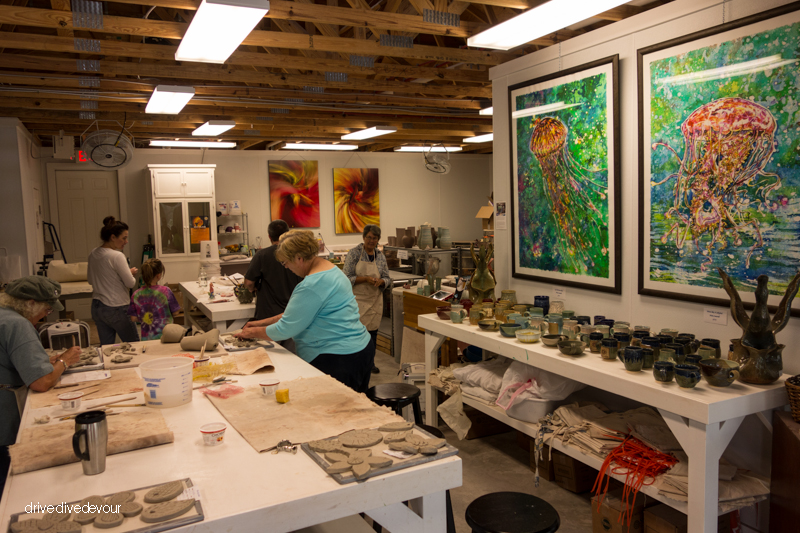 Finally, we waited until the end of our stay to visit The Gulf, but I wish we had gone sooner, so we could have gone more than once. The Gulf is a restaurant located on where else but the gulf. It's built out of shipping containers for a cool, industrial look and is all outside seating (avoid cool, windy days). The seating and lounge areas here are what really appealed to me. I could see just hanging out all day with the dogs lounging in the sand, moving to a picnic table, and then sitting at the bar. The food itself was good, although a little sparse for vegetarians. They do make fresh-cut fries which earns them a gold star in my book. It's small, rotating blackboard menu, but they keep the fries, salad, hamburger, and grouper sandwich on the menu. Brandon enjoyed the burger and the sunny day only heightened the good feeling.
Overall, our time in Gulf Shores was well spent. We experienced beautiful beaches, had great experiences outside, took an awesome class, and ate some wonderful food. We'll have to go back when the ocean is more cooperative for diving and the weather is a little warmer to lounge outside all day on the beach. But we're still happy to experience Gulf Shores at our own pace in the off-season. Sometimes for us, that's the best season. What's yours?
Have you been to Gulf Shores? Did we miss anything? Let us know for next time.
*Thanks to Gulf Shores and Orange Beach for hosting us. Opinions expressed are always our own.