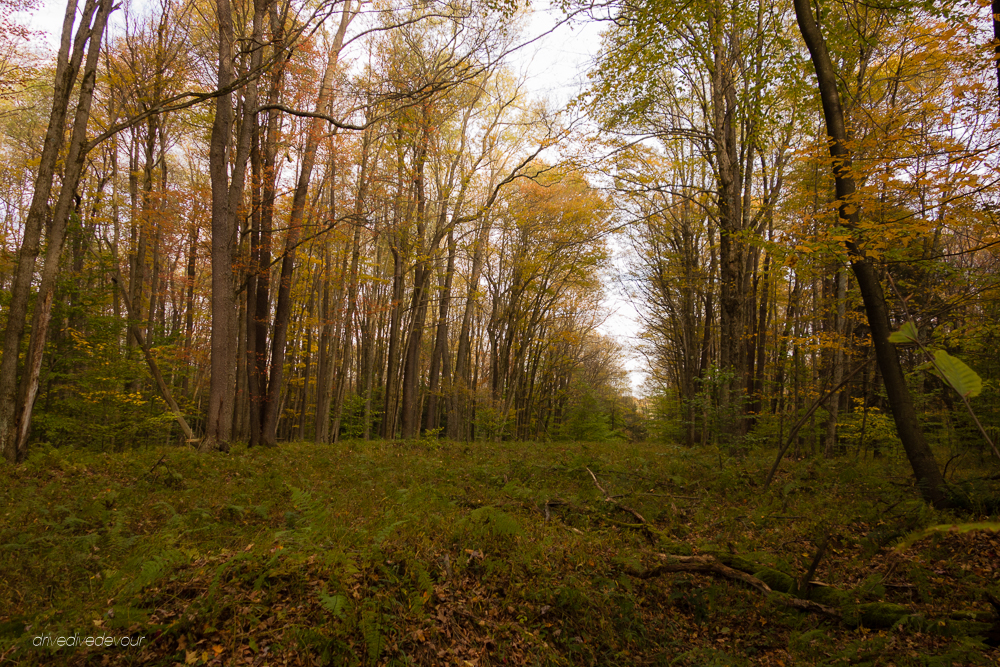 As I write this, it feels like fall has already left most of the country. But as we made our way from the North to South, I'm reminded that it is still autumn for another couple of weeks. Down here, it feels more like what I think of as fall weather or at least the part of fall that I love. I'm crazy for the autumn when the air is crisp, the leaves are changing, and apples are everywhere. I love being outside hiking through the woods or at an orchard picking fruit fresh off the trees. That's why this day stands out for me from our recent trip to Pennsylvania as being perfectly fall.
I started my day off the in the best autumnal way with a chai tea latte sweetened with apple cider and apple slices smeared with peanut butter. We planned to go hiking in the Allegheny National Forest and ran across the street to get blaze orange beanies for everyone to make sure we could be seen by any hunters. We didn't want any weird accidents on this trip. We made quick pullovers for the dogs just by cutting the top off of the hat. Then we all piled in the car to head out towards the forest.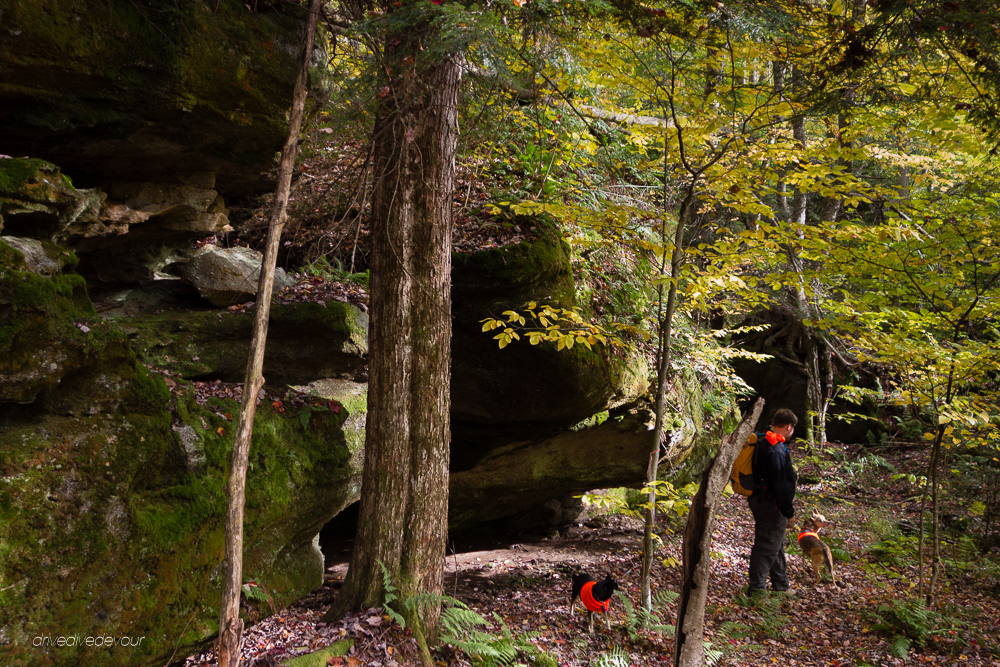 First, we had to make a stop at Rocky Ridge Orchards to replenish our apple and cider supply. I picked up a few different varieties of apples while Brandon grabbed a gallon of cider. Then the owner told us they had just made a batch of cider doughnuts. Oh! Well, I guess we should get one and an apple fritter, too. We only got one doughnut because in our experience, cider doughnuts can be magnificent or dry. On the road, we tried a bite and found these were definitely the former and we should have gotten more.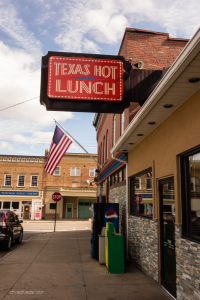 It was close to lunch time, so we took in a local specialty, Texas Hots. Or I should say, Brandon did, I had lentil soup. Texas Hots are what I grew up calling Coneys, in Vermont we saw as Michigan sauce, and everybody understands as chili dogs. I wonder why there are so many names for hot dogs with chili sauce. Bellies full, we moved on down the road into the forest.
Finally, we got out of the car and into the woods. The scent was intoxicating, a little damp and earthy. Although we didn't see a wide range of colors, the golden hues were spectacular. We made our way to a small creek and decided to turn around before it got dark. On the way back, we rested in an old hemlock forest. As we stood there quietly, a small herd of deer ran through. They stopped to look at us and then took off. I am not sure how Kona missed this, but he did.
We drove back home to a waiting dinner. Local vegetables were in the crock pot and I had made an apple cider pork loin for Brandon in the pot overnight. All it needed was a little heat and we would finish our perfectly fall day with a perfectly autumnal dinner.