After downsizing from a 40 ft to our new-to-us 30 ft RV, we've gotten a lot of questions. Does it feel too tight? Does the layout still work for you? Did you have to get rid of a lot? To answer these I'd say, "No. Yes. Not too much." But instead of just talking about it, we thought we'd give you the tour.

Our new home is a 2012 Newmar Bay Star 30 ft gas motorcoach. The transition has been pretty seamless for us with minimal growing (?) pains. We did get rid of more stuff, but most of it needed to go anyway. There's something very freeing about letting go of things you don't use.
The Bays
We no longer have the super deep pass-through bays of a diesel, but we've managed to make it work by consolidating and using our Tetris skills. Brandon was able to get all his scuba gear in one bay!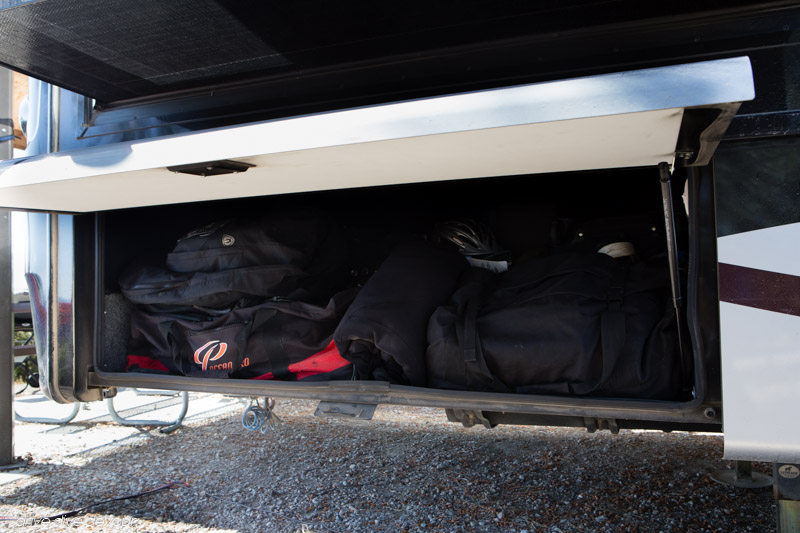 Interior
We found a floor plan that was surprisingly similar to our previous RV, just a little shorter.
We still have a couch, but had to say goodbye to our blue chair. Kona thinks the new sofa is pretty comfy.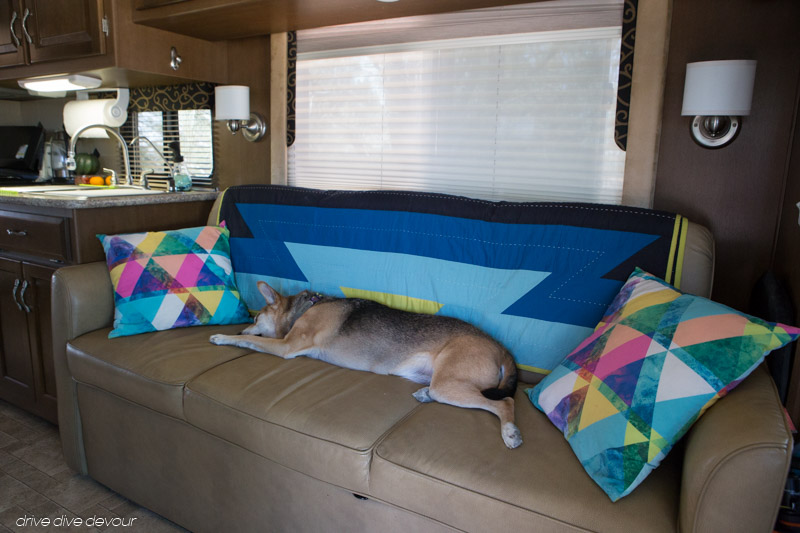 Work Space
The desk/dinette area didn't need a lot of customization to make it work for us. Brandon was able to modify our drawers into keyboard trays and drill a couple of holes for wires and viola!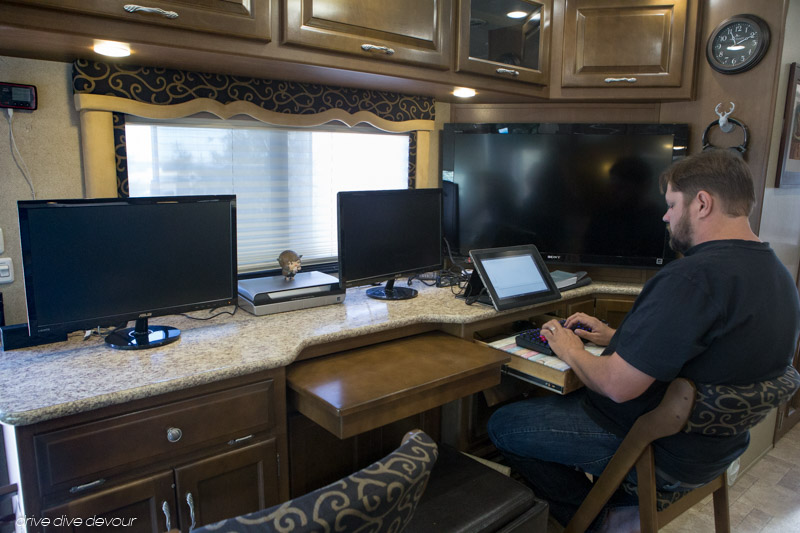 Kitchen
The kitchen had the biggest changes for us. We went from all-electric appliances (induction cooktop, convection oven, and residential fridge) to the typical gas-powered range and smallish fridge. While an adjustment, it allowed us to spend more time off the cord even before our solar. Our previous RV was an energy hog and we'd have to run the generator once or twice daily to keep the batteries topped off. We added organization boxes to the fridge and a stove wrap to keep everything clean and in its place. So far, so good.
Bedroom
We lost a slide in the bedroom, but we gained under bed storage, a tv, and a rear facing window. It's hard to argue with that!
We're really happy with our choice. Is it perfect? No, but is anything? At some point, we'd like to update the decor more to our style and there are some changes in the kitchen that could be done to gain counter space back. Those are our biggest complaints and they're not that bad. Downsizing 10 feet has felt like opening 10 more doors to adventure for us and we can't wait to drive through them all!